Our Team
Dr. Gary Davidson, CEO
Dr. Davidson studied biochemistry at Aberdeen University in Scotland before moving to Heidelberg to do his PhD in developmental biology at European Molecular Biology Laboratory (EMBL). After postdoctoral work at the German Cancer research centre (DKFZ) in Heidelberg he moved to KIT to continue his research work into understanding the molecular mechanisms that regulate Wnt signalling. The research group of Dr. Davidson routinely performs high-throughput cell-based screening, which is a fundamental part of the R&D work performed at ScreenFect.
---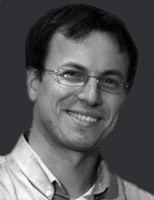 Dr. Pavel Levkin, CSO
Dr. Levkin obtained a B.S. and M.S. in Chemistry and Chemical Engineering from the Institute of Fine Chemical Technology, Moscow, and a Ph.D. in Organic Chemistry from the University of Tübingen with Prof. Schurig in 2007. He did postdoctoral work at the University of California at Berkeley with Prof. Fréchet and Dr. Svec in 2007 - 2009. He then became a head of the Biofunctional Materials Research Group at Karlsruhe Institute of Technology and Heidelberg University, Germany. Dr. Levkin´s research is focused on the development of advanced biofunctional materials for cell screening and cell patterning as well as on the development of novel drug- and gene-delivery systems.
---
Manuel Mannuss,
Head of Manufacturing and Large Scale Application
Manuel Mannuss was educated as Technical Assistant at the Institute of Toxicity and Genetics at the Karlsruhe Institute of Technology. He worked in the research groups of Dr. Levkin and Dr. Davidson on synthesizing different lipid-like-molecules and their screening for gene silencing in cell culture systems. In 2013 he joined ScreenFect GmbH and is now responsible in research/development of reagents for protein expression in large scale transfections and the production coordination of our commercial reagents.
---
Karina Schwarz,
Head of Research and Product Development
Karina Schwarz studied Bioengineering at the Karlsruhe Institute of Technology. She joined the research group of Dr. Levkin in 2013 to complete her Diploma Project in which she optimized the preparation of reverse cell transfection microarrays for high-throughput screenings of ScreenFect reagents. Karina gained extensive experiences in cell culture applications and quality assurance during her internship at the Department of Cell and Molecular Therapies at Royal Prince Alfred Hospital in Sydney, Australia. After graduation, she joined ScreenFect GmbH in 2014 and is now responsible for the coordination of research and product development projects at ScreenFect.
---
Rebecca Gätzel, Technical Assistant
Rebecca Gätzel was educated as Technical Assistant at the Institute of Toxicity and Genetics at the Karlsruhe Institute of Technology and worked there for three years. In 2008 – 2015 she worked at Micromol GmbH and joined ScreenFect in 2015 to support the cell culture maintenance.
---
Marvin Krebs, Sales and Marketing
Marvin Krebs graduated his education as an industrial clerk at Dr.Wolman GmbH, a division of BASF AG in 2007. Since this time he worked in different branches for the Sales department. He has a sales experience of nearly 10 years. Furthermore he gratuated as a Bachelor of Business (CCI) at the IHK Mannheim in 2011. He joined ScreenFect in 2015 and is responsible for the sales and marketing activities.
---
Dr. Jyotsna Sharma
Dr. Sharma Studied Biotechnology from Madurai Kamaraj University, India and a Ph.D. in molecular cell biology from the International Max Planck Research School- Environmental, Cellular and Molecular Microbiology (IMPRS-MIC), at Philipps University, Marburg, Germany in 2015. The research focus was Biogenesis-defined parasite compartments and Infection-induced modifications of the host cell membrane. She joined ScreenFect in 2016 and is responsible for the sales and marketing activities.